Hello Friends,
Today I would like to explain simple procedure to make a photo frame all by yourself. Making a photo frame is very simple and fun to make. You can have 2 types of frames:
i) A frame with a photo permanently fixed into it.
ii) A frame with an option to insert a photograph.
Static one is easier, actually. ;) So lets start. I will explain both.
Materials You Need:
1. Hard cardboard and a cardboard with lesser thickness.
2. Ruler, pencil, cutter, scissors, fevicol
Steps:
1. Cut the hardboard into desired size, 6"*8" or the size you need.
2. Now take the board with lesser thickness and cut it in such a way that there is 1" extra on each side except the one to insert a photograph. It can be horizontal or vertical as per your need.
3. Make a smaller box in the middle to match the size of the photograph i.e. 5"*7".
4. Now cut along the same lines of the photo box. This will make a window in the board. :P
5. Mark the traces along the lines of the actual size of the frame. Fold along the traced lines to the inner sides. This will make it easier to paste the former and the latter.
6. On the base of the frame, make a flap type opening to insert the photograph.
7. Attach a stand and you are done. :)
It may appear like:
I wish I had some step by step pictures to show. I will update the pics I make a frame next time.
Those who wish to make the one with a permanent photograph, skip the step 6. You can just paste the two card boards of equal sizes, one with a window on it, on each other and paste a stand on it.
Was it fun to make it? I really enjoy it. Post creating this, you can decorate it anyhow. :)
After decoration, it will look like: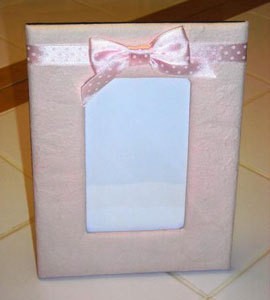 You cane make it of any shape and any size you want.
Enjoy your creation and share. :)